Welcome to Blogmas day No.3! Today's post will be Christmas gifts for gamers! As my boyfriend and brother are both obsessed with gaming, I decided to do one which will also help me think of ideas. Hope this list is useful!
*This post may contain some items that could potentially earn me a small commission*
Where can you buy Christmas gifts for gamers?
I would recommend the gadget shop Men Kind! I always take my brother to the one in Southampton. He absolutely loves it there, it's like his dream! Men Kind sells all sorts of amazing things such as; lights, machines, mugs, drones, etc.
Christmas gifts for gamers:
Gaming Leds/lights:
Having colorful/themed lights when gaming is super cool! For some reason, my boyfriend will leave his main light off and only have his LED'S on. Sitting in the dark? Sounds weird, but it makes it more fun!
Pacman light for £25.00
Lights will be perfect for any age, depending on the model. I know my brother (8 years) would love this!
Multi coloured strip led lights for £9.99
I would recommend putting around the tops of the room as it would look super cool, or behind the tv.
Minecraft Steve desk light for £12.00
I know my brother would absolutely love this one as he is a massive fan of Minecraft!
Gaming Mugs/bottles:
Got to stay hydrated! My brother has millions of Minecraft bottles! They are super practical for school, or just to have around the house.
Having mugs will be a great gift as I don't know about you, but I love hot chocolate in the winter!
PlayStation mug for £13.00
I would suggest this gift for a hot drink and games lover!
Minecraft torch bottle for £12.00
Recommended for kids and Minecraft lovers! Alfi has put this bottle on his Wishlist!
Personalised Gaming mug £11.99
Recommend for people who love gaming and tea/coffee. Also super cool as you can personalise it too!
Gaming chairs/seats:
Inflatable PlayStation seat for £25.00
Super cool and fit for anyone!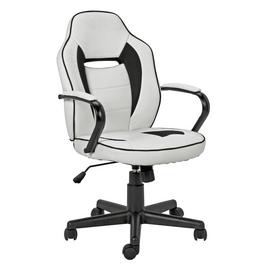 Leather gaming chair for £65.00
This seems really good quality chair and I know my brother would love it as it spins!
Funko Figures:
Alfi is in love with these 'pop head' things. Not entirely sure why, but he loves collecting them! To be honest they are kind of cute!
Fortnite llama figure for £10.99
If you love collecting things or play Fortnite, you love this Fortnite llama figure. Alfi is constantly staring at it!
Fornite Tomato-head figure for £13.35
If your a Fortnite lover, this is a great gift for you!
Sonic Funko Figure for £18.87
Love sonic? This gift is for you!
Headsets:
In order to play games, certain ones require headsets to communicate with others. Therefore a great Christmas gift for gamers would be is a headset!
Black and Red gaming headset for £30.00
This is a super cool and smart headset for gamers!
Headset with LED's for £23.99
This gaming headset is super cool as it lights up on the sides!
Pink headset for £20.00
Perfect for little ones and a lovely colour!
Batteries:
Batteries…. gamers just cant get enough of them! The amount of times my brothers asks for new one for his controller is unbelievable!
You can pretty much get them from anywhere!
You can get a 60 pack of batteries on amazon for £12.99!
Controller:
In order to play on your games console, you need a controller!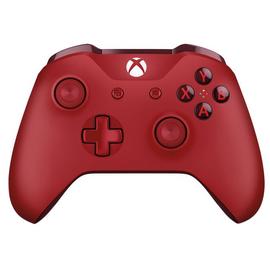 Blue Wireless Xbox controller for £54.99
I much prefer wireless as they are a lot more accessible however they do use up a lot of batteries if you play a lot.
Black PS4 Controller for £44.90
Simple and basic controller for a PlayStation. And again, it's wireless which is a bonus!
You can also buy clear ones, other colors, ones with wires, and more! Did you know you can also get custom controllers? There are many websites that you can customize your controllers such as:
Controller/cable Holders:
Talking of controllers, some gamers may need/want a holder for it!
Baby Yoda Controller Holder for £25.00
This is a super cute holder!
Sonic cable holder for £19.99
This is another great cable holder and cheaper too!
Xbox One holder/charger for £16.95
Not only is this great for storing your controllers, it also charges them too!
Virtual Reality:
VR headset for £35.95
Perfect for either android or apple phones!
VR headset for £299.00
Keyrings/badges:
PlayStation pin badges for £4.00
These badges are super cute and recommended for PlayStation and gaming lovers!
Groot Keyring for £7.00
Super cute keyring, recommended for Marvel lovers!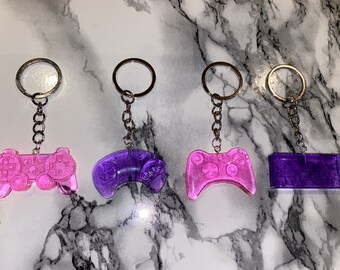 Colourful gamer keyring for £3.25
I am love with these keyrings from Etsy, as they're super cute!
I hope this list gave you a bit of inspiration and ideas of what Christmas gifts to get gamers! Like I said before, I don't own some products so they are just recommended by the look online!
If you want to check out other Blogmas posts, take a look at https://demilehuray.com/tag/blogmas/
Other Posts:
Social Media:
|Instagram|Twitter|Tiktok|Facebook|